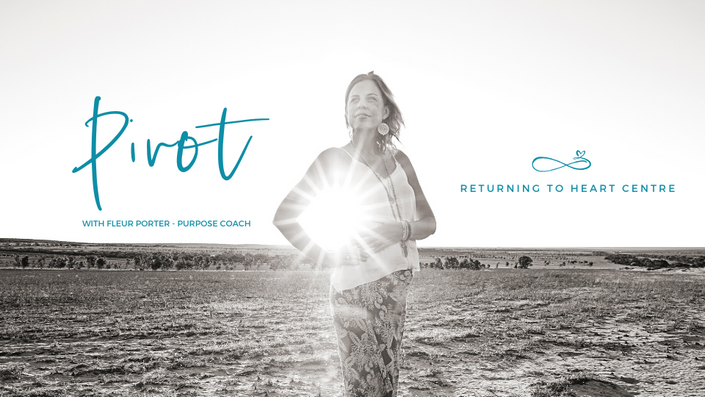 Pivot - Returning to Heart Centre
The infinite PIVOT of returning to your heart
One day, inspired by a pandemic, I decided to explore the word pivot.
Mostly because I was entirely irritated by how often it showed up in my business coaching/marketing newsfeed as the thing I would need to do to SURVIVE (yep, I am yelling). It felt so pushy and forced and like if I didn't act soon I would miss the huge opportunity that had opened like a cavernous yawn in front of me .... That people were lost, confused, fearful and unsure how to navigate the 'new' way forward and as a coach I should be upping my productivity so I could help them. In the midst of this, I was having my own experience. Grief and then, something that felt like a readjustment of purpose.
Pivot. I thought it was a hard word - masculine and about force, sudden changes of direction, sharp corners, no time to adjust. When I got all word-nerdy and used the thesaurus though I discovered (as I always do) something entirely different to what I thought.
The words associated with pivot included: Turning point, heart, centre, support, axis, core, inside, interior, midpoint, root, essence, circle, nucleus. Somehow everything.
I don't think we need a pandemic to pivot. But some of us (especially me) need big things to make us question what we believe, how we're living, and if it's really, truly in alignment with what we want and who we are. And sometimes an exploration can help us reflect on what something meant, and what we can do to live life from our heart centre and be the force for good in the world we dream of. For me, it changed how I am as a mother. I want to forge a new path, and be the mother I always wished I had been. And the woman at the centre of myself.
So here's a little, simple 14 days of gentle reflection and teachings to help you gather your resources and forge your own path forward. You may have also just been in pandemic and it brought to light some things you want to change, and want to hold on to. You may have recognised your busy-ness and survival mode automation and be determined to shift it once and for all. You may have started to question what's essential, or what's real or what's true for you. You may just be ready to start exploring what's possibly if you just pivot and come home.
I've purposely made it short (I found I could commit to things that required 15-30 mins from me at a time), and real (authenticity is everything, my work is steeped into my life and my life into my work - like a simultaneously strong and subtle cup of tea) and doable.
I hope you can join me.
Big loves,
Fleur xx
This Program is self paced and each module will be delivered daily in Teachable plus a video recording (which is also saved in a Secret and Private Facebook Group only for those in the program). Once you purchase the course you will receive instructions on how to access the Course and Facebook group.
Your Instructor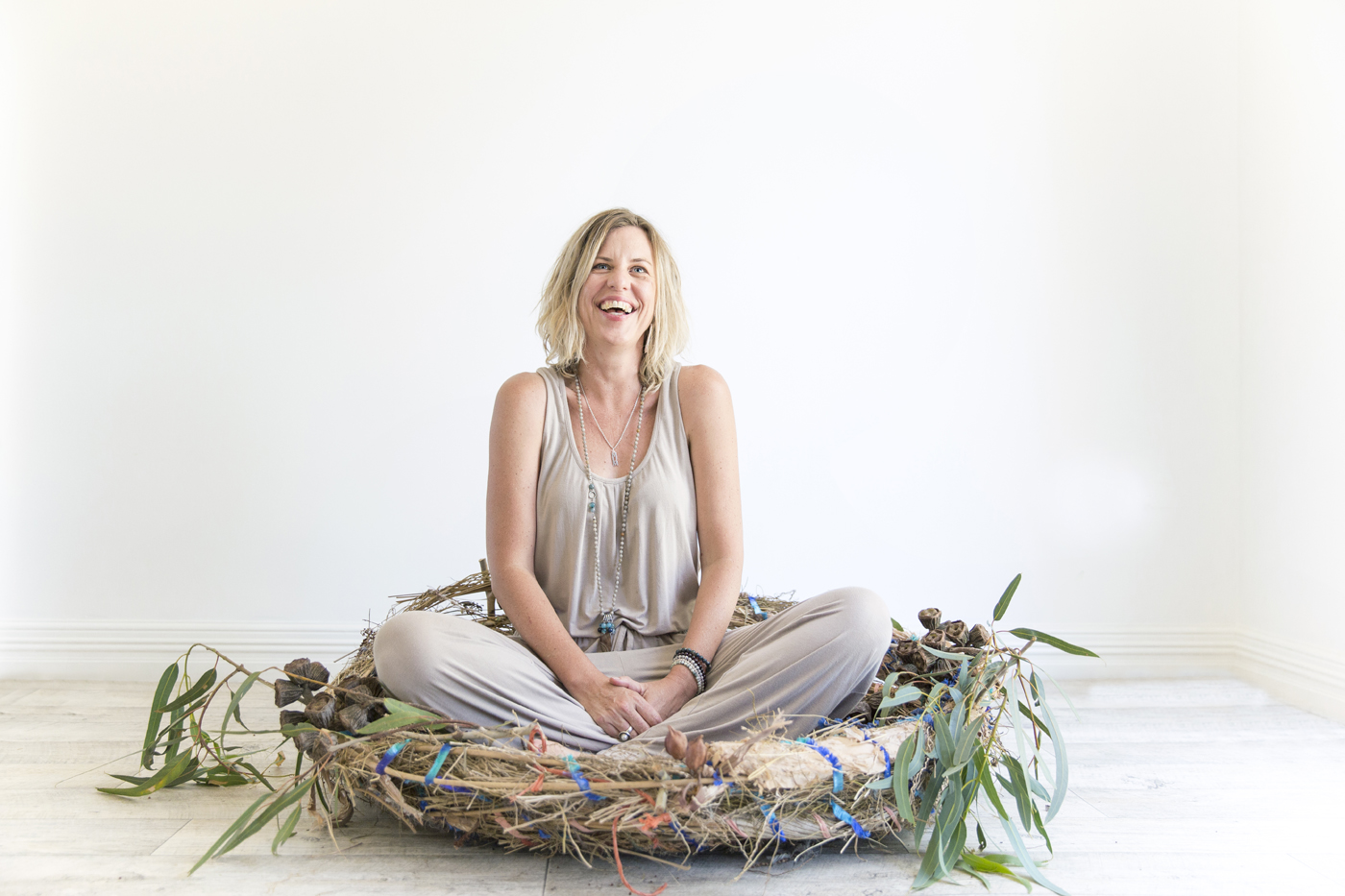 I'm a purpose coach. Which is like a life coach and business coach focussed on purpose. Or magic. Or whatever it is you want to call it. For the people who want more, but have just never been able to find the time or the focus to put their finger on what exactly that it, or how exactly they can do it.
Course Curriculum
Welcome to Pivot - Returning to Heart Centre
Available in days
days after you enroll
BONUS: 5-Day Self-Love Challenge
Available in days
days after you enroll
If you commit to this 14 day journey of gentle reflection and teachings to help you gather your resources and forge your own path forward. It's an inner journey, which will support everything you do outside of yourself - how you show up, what action you take and what might be next.
It's a short 15-30 minute commitment on reflection, exploration, and alignment with the centre of ourselves.
If you found you wanted to change the way you do life in the midst of the world shifting on it axis, but want to know how to stick with this when/as things continue as 'normal', this process with support you. If you feel scared about what is happening in the world and have started tp question everything, pivot with guide you home. If you did not have time to breathe as an essential worker or parent or carer and need to renegotiate the terms, this course with give you foundation to begin. At every turning point in life we get to make new and different choices, let me hold space so you can truly connect to your soul and KNOW how and what to choose.
The course includes:
Access to Teachable Modules and Content

Access to Private Facebook Group for program members

Daily modules delivered over 14 days delivered in a variety of styles (video, audio, worksheets)

The videos in each day are also in the Facebook group.

Worksheets and other resources will be downloadable from Teachable.
Plus as a BONUS you will have access to my 5 Day Self Love Challenge.
Have it all without overwhelm and burnt out

Get out of survival mode and into thriving

Handle your biggest hijacks

Create space and craft more time

Increase your capacity and access to all the resources available to you
The Bonus Challenge covers:
Day 1: Survival Mode is Killing You
Day 2: The Identity Piece
Day 3: Creating Space & Time
Day 4:Self-care is an Expansion Exercise
Day 5: The 3 'Must Haves' for Having it All
Magic needs some room to breathe. Magic comes alive in the moments of clarity, when everything else falls away. Magic is like that moment when everything goes suddenly quiet and the air around you inhales slightly and something tense lets go. Magic is in the little bits of every day that we sometimes miss in the busy-ness.
Make some space for magic. Always.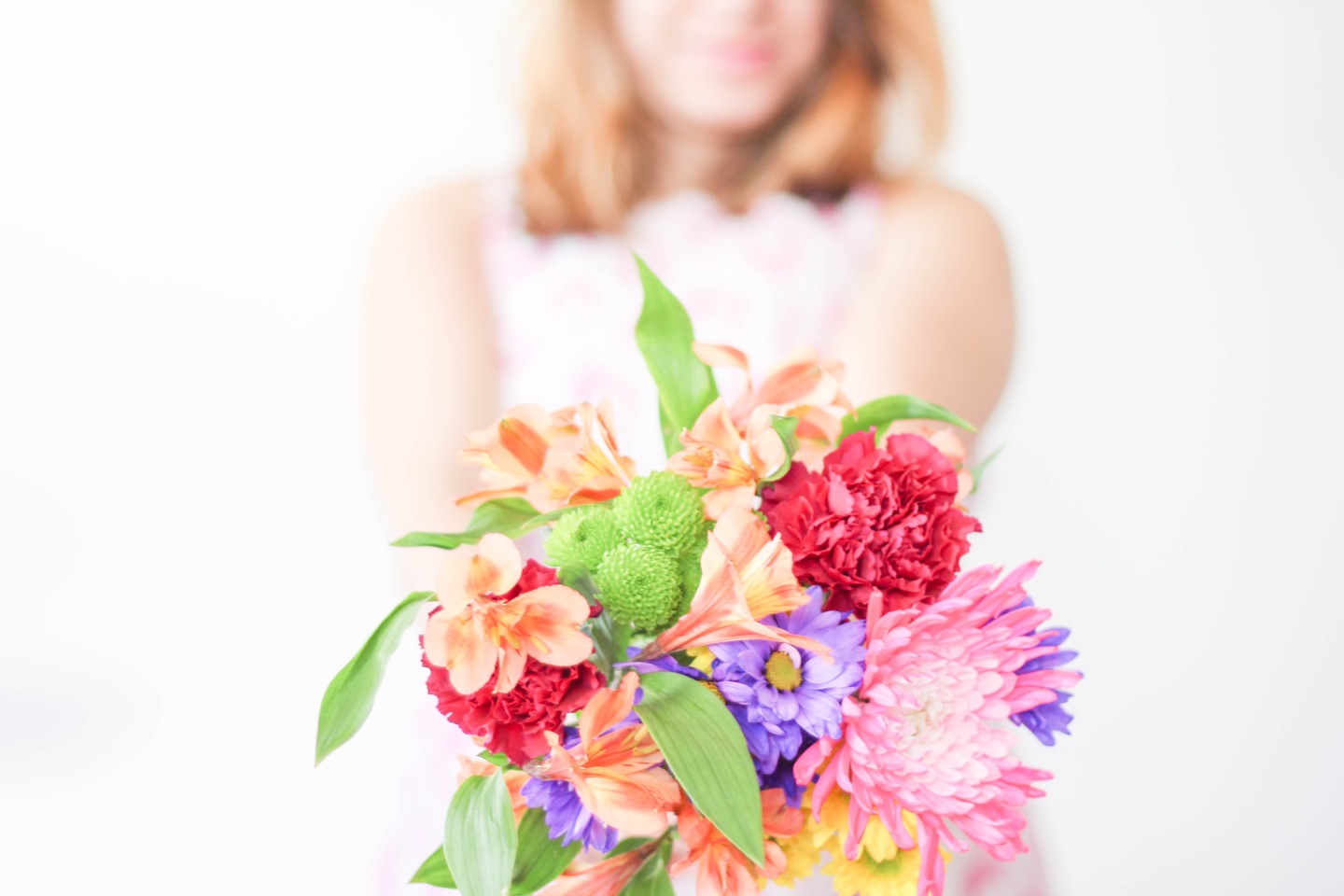 It was a no brainer to do Pivot!
Having access to the course and your daily lives was just what I needed.
I had a lot of aha moments. Biggest take away for me is that if I don't do the work, I won't reap the rewards. I can't keep expecting things to just come together even though there is positive intent. I recognise the self growth I achieve when I commit to ACTION. I found that I clicked with meditation and should use this practice regularly to slow and calm, create the space to let messages come through. I also loved the self-compassion piece and talking to yourself like you would to your best friend, that I need to be a better friend to me.

Since completing Pivot I feel I'm in a higher state of self awareness at the moment. I have been using the PIVOT materials and my journal notes to reinforce the process, and I have been making time for myself.

'
Would I recommend to a friend? YES, YES, YES
One thing I felt worked really well was in the videos, you giving specific examples of situations to relate back to the learnings. For me it helped understand the overall concept you were discussing. I think the interaction on the FB group page was great, reading others stories and understanding how the course material was helping them. I was then able to use this to reflect on my own journey.

- Cass O'Neil
Beautiful here's the backstory. It's long, but here if you need it x
One day, inspired by a pandemic I decided to explore the word pivot. Mostly because I was entirely irritated by how often it showed up in my business coaching/marketing newsfeed as the thing I would need to do to SURVIVE (yep, I am yelling). It felt so pushy and forced and like if I didn't act soon I would miss the huge opportunity that had opened like a cavernous yawn in front of me .... That people were lost, confused, fearful and unsure how to navigate the 'new' way forward and as a coach I should be upping my productivity so I could help them. In the midst of this, I was having my own experience. Grief.
At first, as the world shifted on its axis (seemingly slowly but only because things changed minute to minute and there was so much to adjust to), I thought all I had to deal with was my response to fear. And to find a way to keep myself and my family healthy and safe and not be panicky and fearful about that. But as the week progressed and our reality unfolded, and I started to talk to people and notice my reactions to their reaction I realised it's all (mostly) grief. And everyone is somewhere in that process as everything we thought we knew and all the ways we operated and the things we were sure of, suddenly weren't sure or even possible anymore. In our house, it unfolded so swiftly it took me by surprise.
My husband returned from an interstate trip. In the week he was away the pandemic unfolded and I did all the things that helped me make sense of it, I spoke to a few trusted sources and read a few (too many) scientific (and not scientific) articles and got clear about how I felt about it then. We decided (together) that he would self isolate (this was recommended by the State Gov 2 days later anyway) and I also made the call to keep the kids home from school while he did that. The first few days were the weekend, so nothing really changed except he could totally sleep, eat and watch TV in our room with the en-suite. The only thing missing was me, and he was tired and needed to rest. But as the work week rolled around he shifted rapidly from denial (the bit where he was away and focused only on work) to bargaining (the bit where he would rest for a few days and all would be good) to being really super [email protected]*king angry about the reality of his work (an essential service as an Ag business) and managing his team, and getting ready for seeding and tying to do this from the bedroom (with the walls closing in and a wife and four anxious kids outside who were missing their friends, their school routine, their sporting activities and all the things they considered normal). We fought. Before this, I thought (assumed) he was where I was – I assumed (wrongly) that he had processed what it meant for the world to shift on its axis and he was where I was. Accepting. Alternating with sad and angry. But mostly accepting. Not knowing what it all means and how it will be OK, but knowing it will be.
It took him about a day and half to move through the anger, frustration and blame bit (and probably it's not all done, as things will change again and that bit will come up). It was hard. I was cool and not so cool. Him too. But the thing about my husband is that once he gets clear and calm he's super wise and articulate. I just always want him to be there sooner than he is. Of course.
Just remember that grief is a process. And it's not linear. And we cycle through it multiple times and at various speeds and it's unlikely that whoever you are sharing this time with will be in exactly the same place as you at the same time. And that's OK. Have empathy for you, and for them. You can not judge someone's denial/anger/sadness without being in fear yourself. It's only possible to hold space for them if you can hold it for you.
And then, as things transitioned once again, I shifted again. Close to something like survival. Which I've always been super good at. Survival mode clicks in and I get on with the getting on, in a busy way. The thing was though. I couldn't quite manage it. And then I didn't want to.
For me, and many of my friends, family, clients and people in my (privileged) local world we have children, and husbands and jobs or businesses. At least one, if not both, people in our households are essential workers or have business that service essential work and/or have ways of continuing in a modified form. At least one (if not both, but definitely one) of those people was the primary carer and (momentarily in WA) supervised school at home. In our case, that person was me. My business (as a coach who already runs online programs and can do Zoom coaching and training easily) could continue to run, and I had scheduled calls and clients on most week days. My husband, once he got out of his 14 days of self-isolation from interstate travel, was able to return to work as he works in agriculture. For many weeks I had four children at home with me, 2 in high school (at 2 different schools and 1 also at TAFE as well as school) and 2 in primary school (a fourth learning delivery platform for me to get my head around).
I'm grateful for so many things (Australia, the beautiful Autumn weather, our big house, my husband's work, the fact that financially we will be OK and have safe shelter and food and ongoing work) but I was drowning in the reality of life at home as a (not) home-schooling housewife of 4 kids who were all going through their process about what this means to them, and I was wavering between embracing the time and space and home, floundering in boredom and being overwhelmed if I had more than 2 hours of work per day and wondering long-term if don't invest in my business RIGHT NOW what will happen to it and me. I'm in coaching groups and have incredible friends and wise mentors (who mostly do not have children or young children at home, and some of whom are also not in a relationship) who can see this incredible opportunity to do business and support people and grab all the massive bargains in the coaching world and learn new things and get their business cranking and I was flailing in this space of HOW THE F*@K DO I CHOOSE?
The truth? What I always chose was my business. What I always chose was my work. When I got stressed or broke or bored, I worked more, I learnt more, I found things to invest in that would help me grow and I went with it. And I cannot change what has been and I always believe everything is perfect as it is, even if it's hard to see until later. But right now, it feels like I must choose the things that mean the most. Right now, the people who I want to serve in work are all the people I am already working with or who have worked with me before. Supporting them feels like a priority. Some (many) of them, like me, were flailing. I spent my coaching years telling people to set up support systems that included EVERYONE from OUTSIDE YOUR HOME, and services like home delivered groceries which was not really available for a while. I told them that your team shouldn't be just you and your husband, because no one person can just meet all those needs and yes, you should get on the same team and then get as much support as you can – school, day-care, au pairs, cleaners, housekeepers, after school activities, grandparents and Aunties, play-dates, sports – so you can stay sane and graciously juggle all the balls. And grace still plays a huge part in it, but all the terms need to be renegotiated because for many of us, our husbands became the only other possible support person. And it was hard not to notice the discrepancies in time, availability and effort when one person leaves the house all day and the other people did not leave at all. For weeks.
So, in that time, and even right now as we adjust back to school and the easing of restrictions, what felt most important is to choose my family. My children and their extremely demanding needs and exhausting relentlessness. I needed to bring my energy in and get creative about how we all stay home and stay sane and get done what we need to, and then get by with the rest. What felt important is to cook nutritious meals and make my husband's lunch and get up at 6am to exercise and vacuum up the cat hair and the crumbs in the TV lounge so we can all watch "Nailed It" together on a weeknight after dinner. What felt important was checking in with my friends and family and making sure they're OK or to find out if I can drop something off from the shop or something we have at home that they need. I didn't know how or when this would end, but my usual survival mode mechanisms were not going to cut it, even though I knew I could give them a good crack. I needed to be super present and make sure the kids were eating and drinking water whilst on their devices for more time than usual, and know what they need to get done and have time to chill and get outside (even just for 5 minutes) and bathe regularly and have time with their friends but also lots of time without a device in their face. If I pretended I could do all this and work 6 hours a day in my coaching business then I was going to go insane. And although I did not want to let go of what it was, until I do it can not become the very thing it's meant to be. And I didn't even know what that was meant to look like, but it was not like business as usual.
So all those terms you need to (re)negotiate – like household chores, children's activities, availability for schooling supervision (or drop off and pick up), sourcing food, cooking food, the garden, the pets, date night, time alone, family time, the way the house and rooms are used, times for workouts, how you can get time alone, how you manage going out (or not), what the family values are, how to work as a team, what 'outside support' looks like, and who to use – are things that you could have talked about before. And maybe didn't because it was too hard, or you thought it was your role or you figured you were too capable, or you've been trying to prove your worthiness. You can not bring those things here. You will not be sane. You will be the #superangrycrazylady and no one likes being around her. Which is effective to a point, however because you have to stay home/do life every day with these people for an indefinite amount of time I don't highly recommend this strategy.
And if you want to renegotiate as well, you'll need to dip into that resource that in stress and trauma (this was a traumatic experience for some) is not your go-to. You'll have to do the opposite of what you've been doing. You'll have to drop into your feminine and acknowledge how you feel (overwhelmed, angry, scared, panicked, confused, sad, anything is OK) and be OK with not coping (this is normal, and all the things going on in the world is not normal and your response to that is perfectly OK, even if it's not what everyone else around you is going through). And from your feminine, within your body, you cannot say the wrong thing. You just say what you need (and even what you want) and acknowledge that things have to change. Everything else has changed, so doing the same stuff at home you always did is not going to work. You'll first have to acknowledge what's not working for you (it's not working for you if you feel angry, resentful, exhausted, overwhelmed, obligated, guilty or despondent). Some things you may have needed to do more of (cooking, sourcing food, cleaning up after food, exercise, time in the garden, family games) and some things were irrelevant (library bags, new sneakers for netball, bed time (lol, only kidding), sleepovers) and some things may have become essential that didn't feel essential before (time alone at home, all the blow up toys in the pool) and there needs to be so much more talking about all the things.
Don't let this time/any time take you out. If you are exhausted, rest. If you are sad, cry. If you're loving some things, do them more. If you don't know what to do next, pause. If you want to create something amazing and have time and space, go for it. If you can't, find a notebook of dreams and start taking notes. Your time is coming. I promise.
And even with the kids in our house being back at school, the thing I focussed on the most is my energy and how to keep it like that woman who had to stay home. She was so much less stressed, and way more committed to the things that kept her sane and whole. And no matter what happens next, it is possible to maintain this. At first it takes more effort, more awareness, more sitting with the discomfort of not doing the usual thing – using stress as a motivator and compromising self-care for getting shit done – and then it just becomes. I think when I always chose my work above everything, I thought I was choosing me. But if I truly chose me, I would have had the energy to choose my family next. I just didn't know how. And a pandemic happened, and the thing I had to learn was to bring my energy home. And that was everything.
I hope you can join me.
Fleur xx
Frequently Asked Questions
When does the course start and finish?
The course runs for 14 lessons/ 14 days. You'll have lifetime access once you purchase (with downloads as well). Daily lessons can be completed at the most convenient time for you. You also have access to a 5 Day Self Love Challenge.
How much time will it take?
Approximately 30 mins per day. Some days might take longer if you want to journal or reflect for longer or spend more time on an exercise. The aim is short and sweet though. Simple. But with depth. You can complete this at any time of day.